What does it take to AWAKEN WITH PURPOSE? Featured Guest: Prana Booster Rebecca Eanes
Hi Prana Boosters! Have you ever wondered what it would feel like as a parent to discover that your methods of parenting felt so painful & wrong to you and were actually hurting your connection with you children? To completely shift from conventional authoritarian parenting to peaceful, positive, loving parenting? Imagine looking to share your messages and experiences on Facebook and creating a page that has brought together over 700,000 other parents seeking answers on how to create a healthy, safe, connected environment for their families? Rebecca is a wonderfully, courageous Mom who made the commitment to herself and her family to find ways to parent in a way that felt safe & loving to everyone in her home. She is a Child Advocate, & Parent Educator. Her stories, writing, & passion help to raise awareness so other families can master & experience positive parenting. I am so excited to connect with this amazing, courageous, inspiring woman once again & connect with all of you, as she shares her beautiful stories from her life.
Bio:
Rebecca Eanes is a best selling author, the founder of positive-parents.org, creator of Positive Parenting: Toddlers and Beyond, and a contributing editor to Creative Child Magazine where she does most of her writing currently.
Her books are The Newbie's Guide to Positive Parenting which has been a #1 best seller in it's category on Amazon, and a co-authored book, Positive Parenting in Action: The How-To Guide to Putting Positive Parenting Principles in Action in Early Childhood, which has also been an Amazon best seller internationally.
Her new book, Positive Parenting: An Essential Guide, will be released on June 7, 2016. You can preorder it now at Amazon.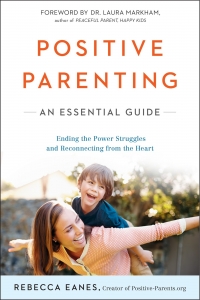 Rebecca is a messenger, not an expert. She writes parent to parent from the perspective of a mother who has made the paradigm shift from conventional to positive parenting. She delights in sharing her journey with her readers because positive parenting has had a wonderful impact on her own family. She has independently researched and studied positive parenting for the past 5 years and strives to continue to learn and grow along with her children, to love well, and to lead a life well-lived.
She is the grateful mother to 2 boys.
Links:
Listen to the Show:
Watch the Show: