"There is no single effort more radical in its potential for saving the world than a transformation of the way we raise our children." ~ Marianne Williamson
Join a Parenting Revolution, a movement, that you can participate in socially & connect with other Prana Boosters™ Worldwide! Please read The Prana Boost Parenting Vow™, and if it resonates with your soul and your desire to create a safe, loving, peaceful, nonviolent, connected family please sign it today!
This is a tool that can help you create the family of your dreams whether you are already a parent or a parent-to-be.
Creating a vision for your family's emotional health and well-being is as important as creating a plan for the birthing process & caring for the physical needs of your child.
IT'S TIME EVERYONE!  It's time to make a promise to our children that we are going to treat them with love, respect, & kindness.  We can no longer look outside of ourselves & ask the world to reflect a loving, respectful, kind state, until we look within and revolutionize the way we parent. It may be impossible for us to determine what type of parent we will be before we meet and get to know our children. We cannot know what they will need, or enjoy or require of us. We can, however, make the commitment to decide that whatever path we choose or whatever our child/children will need we will approach parenting with Nonviolence, Peace, Love, Compassion, & Respect.  
Anyone who is a part of a child's life can benefit from signing this vow whether you are a: parent, grandparent, aunt, uncle, cousin, nanny, manny, neighbor, friend, babysitter, relative, child caregiver, therapist, or human being that cares about children.
Join a Parenting Revolution, Become A Prana Booster™ &
Raise YOUR Vibration, Raise YOUR Family & Change The World!
Today, you can 

READ, VIEW, PRINT, SIGN & SHARE A PICTURE OF YOU HOLDING YOUR SIGNED VOW dedicated to your family

.
We are creating a custom Worldwide Gallery, today you can sign, & take a picture of you holding your Vow and email it to: tina@pranaboost.com with the subject line "I took the Prana Boost Parenting Vow™."
We also ask that you to post it on every social media site you can to share it with others.
Here is our first photo on Twitter!
"Unless someone like you cares a whole awful lot, Nothing is going to get better.  It's not."
~ Dr. Suess, The Lorax
Click on any of the images below to view it full screen, you can then use the arrow keys to scroll through the gallery,
when finished you can press esc or click the x in the lower left corner:
[imageframe lightbox="yes" style="none" bordercolor="" bordersize="0px" stylecolor="" align="left" animation_type="fade" animation_direction="up" animation_speed="1″]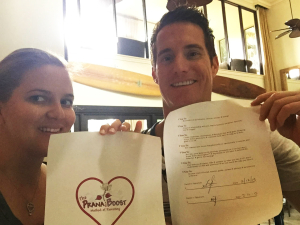 Serena Dyer Pisoni & Matt Pisoni Took The Vow on 2-12-15 Please enjoy my amazing interview with Serena Dyer where we discuss her inspirational book, "Don't Die With Your Music Still In You."