What does it take to AWAKEN WITH PURPOSE?
Featured Guest: Prana Boosters Tom Kaplan & Richard Brenner

Hi Prana Boosters! Have you ever wondered what it would be like to run a restaurant where you serve mindful delicious yummy food while taking loving care of your customers and your employees. Los Angeles based, Hugo's Restaurants & Hugo's Tacos are changing the way we connect over food as people, friends, & families while helping to support our health & well-being. They have 6 locations around Los Angeles, that offer a wonderful Mindful Menu focused on providing options for all types of allergens & eating styles, including Vegan, Vegetarian, Gluten-Free, etc. I am so excited to connect with Tom & Richard to hear their amazing stories & to share their journey with all of you.
Bio:
Tom Kaplan, CEO
Tom was born in 1954, a native Angelino, and his father, grandparents and great grandparents all had Markets here. His father Terry Kaplan bought Hugo's Fine Meats in West Hollywood in 1976 and made plans to expand the little butcher shop to a gourmet market and café. Tom joined his father in the construction phase, helped open the market/café in 1980 (as Hugo's Restaurant) and has been there ever since. Along with his wife Emily, they built the business and were mentored in Terry's very loving philosophies of business and life. During these years known as the Gourmet Revolution, Hugo's was the market where local chefs liked to find new and exciting ingredients. Tom's expertise with French and Italian ingredients combined with his passion for cooking has kept Hugo's exciting and always evolving for 29 years.
In 1987, Tom and Emily opened a second restaurant, Caffe Latte, in the Mid-Wilshire district. The store featured a handmade coffee roaster at the front door and each morning they roasted coffee for Hugo's and several other restaurants around the city. It was here that the Kaplan's met the Brenner's who shared the mutual love for all things coffee and tea, and together they opened Highland Grounds – at the time it was LA's biggest, most exciting coffeehouse – in 1990.
In 2000, the Kaplan's and Brenner's again joined forces to open a second Hugo's location in Studio City along with their newest partner and CFO, Bill Kohne. Together the partners also created a successful spin-off concept – Hugo's Taco's which opened in Studio City in 2005 and Atwater Village in 2008, infusing Terry's philosophy along the way.
As CEO, Tom oversees all aspects of the business and meets weekly with his partners, the General Managers, the Executive Chef and the Director of Sustainability. He steers the direction the business is going particularly with respect to menu choices and community relations. Conducting business with the company's Mission Statement in mind is of the utmost importance to him. His goal is to expand the Hugo's brand while maintaining the family atmosphere that attracts our wonderful staff and customers. In the Kaplan tradition, Tom and Emily's children, Max and Molly have worked (and continue to work) in the business throughout high school and while on their college breaks.
Richard Brenner, COO
Richard Brenner was born in 1954 in Chicago, IL. Being raised there taught him a few things. First, you have to work hard. His first job, at 11 years old, was as a newspaper boy. And second, being a Cubs fan, you had to learn to be optimistic. Richard worked his way through and graduated from Columbia College in Chicago in 1977. While going to school he worked at and later was the manager of the most popular and influential Blues Bar in Chicago called the Wise Fools Pub.
In 1980 Richard and his wife Leslie moved to Los Angeles. He worked at various restaurants learning different strategies and concepts. In 1986 he began working as a loan officer for Southwest Savings and Loan. He quickly became one of their top salesmen but he had a different goal in mind: to open his own restaurant and bar.
In 1990 Richard Brenner joined with Tom Kaplan to open one of LA's biggest coffeehouses (at the time) – Highland Grounds – which featured a broad array of food & beverage as well as live entertainment. With this unique flavor, Highland Grounds spawned a whole generation of new musicians and was named "Best Breakfast In The Afternoon" & "Best Coffeehouse" by the LA Weekly as well as "Great Brunch Menu" by Zagat.
In 2000 Richard and his Hugo's partners opened Hugo's Studio City and – in 2005 and 2008 – the team opened two locations of Hugo's Tacos, a very successful quick-service spin-off of the Hugo's formula.
As COO, Mr. Brenner serves as Construction Coordinator for all our expansion projects. His daily work also includes responsibility for the Kitchens operations and Building maintenance, with the guest's happiness the number one priority. In that vein, he's implemented two programs that are keeping Hugo's ahead of our competition. The first is the Kitchen Empowerment Program developed to make everyone in the kitchen, from the dishwasher to the Chef, accountable for the quality of our food and presentation. The other program is called Gift of Service. This program made a radical departure from the industry standard of "up selling" to encourage our service staff to invest time with each customer personally, making them welcome to Hugo's and aware of what our truly unique menu has to offer.
Richard and Leslie have two daughters named Rachael and Maya, who along with Leslie contribute time and effort to the Hugo's team.
Links:
Hugo's Restaurant Web Site: http://hugosrestaurant.com
Hugo's Tacos Web Site: http://www.hugostacos.com
Hugo's Restaurant on Facebook: https://www.facebook.com/hugosrestaurant
Hugo's Tacos on Facebook: https://www.facebook.com/hugostacos
HUGO'S Restaurants
Instagram – @hugosrestaurants
Twitter – @hugosrestaurant
HUGO'S TACOS
Instagram – in the process of being set up
Twitter – @hugostacos #WoodlandHills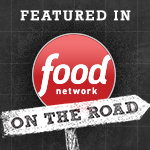 Listen to the Show:
Watch the Show: